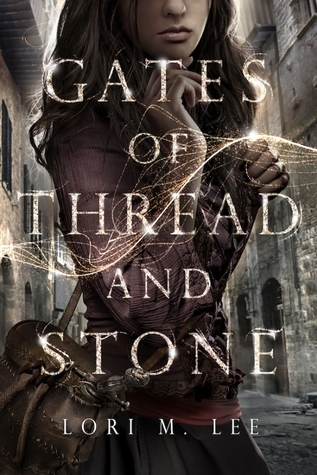 Title: Gates of Thread and Stone
Author(s): Lori M. Lee
Pages count: 335 pages
Publisher: Skyscape
ISBN: 1477847200
Rating: 3.5 stars
A copy of this book was given to me thanks to Skyscape in exchange for an honest review.
I started out loving this book; I read the first half in literally a day but then either my mood switched or the book bored me to no end. I'm feeling like I'm at the verge of a reading slump and it really sucks. My life has been changing a lot lately and I am trying to keep up with everything at the same time and I want more hours to the day!
I've been debating whether this book is 3-stars or 4-stars ever since I finished it so I decided to give it 3.5 stars.
The following premise has been taken off GoodReads:
"In the Labyrinth, we had a saying: keep silent, keep still, keep safe.

In a city of walls and secrets, where only one man is supposed to possess magic, seventeen-year-old Kai struggles to keep hidden her own secret—she can manipulate the threads of time. When Kai was eight, she was found by Reev on the riverbank, and her "brother" has taken care of her ever since. Kai doesn't know where her ability comes from—or where shecame from. All that matters is that she and Reev stay together, and maybe one day move out of the freight container they call home, away from the metal walls of the Labyrinth. Kai's only friend is Avan, the shopkeeper's son with the scandalous reputation that both frightens and intrigues her.

Then Reev disappears. When keeping silent and safe means losing him forever, Kai vows to do whatever it takes to find him. She will leave the only home she's ever known and risk getting caught up in a revolution centuries in the making. But to save Reev, Kai must unravel the threads of her past and face shocking truths about her brother, her friendship with Avan, and her unique power."
I have so many mixed feelings. While I loved the book there is something about it that throws me off and I don't know what it is. Maybe the story could've been told in fewer pages and I needed a little more world-building. The world-building was fairly good but I was left with many questions that I hope get answered in the next instalments.
The writing was outstanding, or at least I loved it! It's easy to read and it sucks you deep into the story. The plot was well-developed but it didn't feature any twist worth mentioning, which is fine with me because I will guess them right at the beginning of the book and that's no fun!
I really enjoyed the originality in this book though. The concept of time being a river of threads and a person being able to pull at the threads was very unique to me and the Infinite's names being the four horsemen of apocalypse's names was beyond cool! The names part raises even more questions to my list but it was still very cool. The way the Ninurta was divided was very classicist and it reminded me of our own society. There are the people who are poor outside the city and the people who are very rich and live ignorant to everything that's going on in their world. It was thought-provoking in some parts.
The characters were very good; in fact I think it's one of the best parts of this book. Kai was a strong female character with a lot of determination and an awesome power! The thing I didn't like about her is how love-drunk she was most of the times; she couldn't stop herself from pointing out how handsome and perfect Avan was. Avan seemed to be selfless but you do realize nothing is for free in this book!
That ending was epic though! Okay, maybe I should rate it 4-stars…
Go read it now!
You can find me on Facebook, Twitter, Instagram, GoodReads and Bloglovin'!