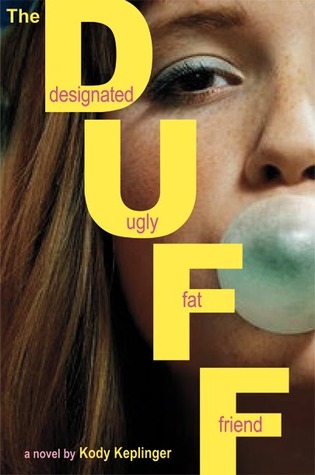 Title: The Duff: Designated Ugly Fat Friend
Author(s): Kody Keplinger
Pages count: 280 pages
Publisher: Little Brown/Poppy
ISBN: 0316084239
Rating: 5 stars
A digital copy of this book was given to me by the publisher via NetGalley in exchange for an honest review.
ALERT!! -> A new all-time favorite book has been read!
Oh man, I can't even begin to tell you how much I loved this book. It was funny to the point where it had me hysterically laughing in front of my whole family. I was realistic (at least in my high school experience) and I adored every single character, especially our Duff, Bianca! Seriously, just pick it up if you haven't because you will fall in love with it; I finished it a week ago and I already want to reread it!
Premise taken off GoodReads:
"Seventeen-year-old Bianca Piper is cynical and loyal, and she doesn't think she's the prettiest of her friends by a long shot. She's also way too smart to fall for the charms of man-slut and slimy school hottie Wesley Rush. In fact, Bianca hates him. And when he nicknames her "the Duff," she throws her Coke in his face. 

But things aren't so great at home right now, and Bianca is desperate for a distraction. She ends up kissing Wesley. Worse, she likes it. Eager for escape, Bianca throws herself into a closeted enemies-with-benefits relationship with him.

Until it all goes horribly awry. It turns out Wesley isn't such a bad listener, and his life is pretty screwed up, too. Suddenly Bianca realizes with absolute horror that she's falling for the guy she thought she hated more than anyone."
One of the main reasons why I loved this book is because of the honesty when it comes to sex when you're a teen. I really like how the issue was addressed; the characters always practiced safe sex and that's extremely important. I'm one of those people who think that teenagers need to be heavily educated on sex. I mean, they're going to have sex even if they're parents don't want them to so it's better to have them do it safely and responsibly; just like drinking! This book also helps us to see sex, not as taboo but as a topic that needs to be discussed around the world.
At first I thought the book was going to be the typical high school drama story, but I was pleasantly surprised to see the diversity on it. Being as realistic as it is, it touches upon topics like homosexuality, sex, alcohol, love, death, grief, heartbreak, family issues, addictions, body-image issues and I could go on forever! You realize the story is about growing up, and about growing to accept yourself as you are. Bianca figures out that being the Duff is a way of feeling, not a way of being; so you are not the Duff as long as you don't feel like it. It's all about confidence!
The characters were SO good! Bianca, our main character, is probably one of my favorite characters ever. She is bitter as hell but, at the same time, optimistic and sweet (sometimes), but also all kinds of fucked-up. Bianca has trouble sharing her feelings with others and she tries to solve all her problems by herself. She thinks she is strong enough to handle life by herself but she realizes she needs certain people in her life to carry her through it. Her low-confidence enables her of trusting others, or at least that's how I perceived it!
Bianca has two best friends, Casey and Jess. Casey is the best friend you could ever have. She is fun to be with, and trustworthy. You could say she is the Queen Bee at school since she is popular and all the girls pullulate around her. She doesn't care though; she's got Bianca and Jess, who is adorable and witty!
Wesley, our main love interest, is a jerk. I would hate him if it was possible but Bianca's relationship with Wesley makes you swoon every time they're together. Everything about this book is EPIC, okay?
If you want a different contemporary read, go ahead and pick it up. You won't regret it, and if you do hate on me on Twitter (okay, don't)!
You can find me on my Twitter, Facebook, GoodReads and BlogLovin'!