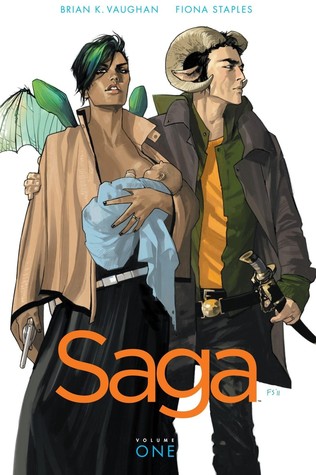 Title: Saga Volume One
Author(s): Brian K. Vaughan and Fiona Staples
Pages count: 160 pages
Publisher: Scribe Publishing Company
ISBN: 1607066017
Rating: 5 stars
When I started reading this graphic novel I was scared that I wasn't going to enjoy it too much. I haven't read too many comics/graphic novels in the past so this was a new experience for me! I totally got sucked into the story from Chapter 1 and I discovered that reading comics is one of my favorite things to do EVER!
If I thought that reading books sparked my imagination, reading graphic novels just blows my mind right off. Whenever I read books, the scenes play out in my head as if I'm watching a movie and I love that feeling. While reading Saga I realized that feeling is much more intense with comics. The artwork was stunning and I feel like the artist captured the world perfectly.
Premise taken off GoodReads:
"When two soldiers from opposite sides of a never-ending galactic war fall in love, they risk everything to bring a fragile new life into a dangerous old universe.
From New York Times bestselling writer Brian K. Vaughan (Y: The Last Man, Ex Machina) and critically acclaimed artist Fiona Staples (Mystery Society, North 40), Saga is the sweeping tale of one young family fighting to find their place in the worlds. Fantasy and science fiction are wed like never before in this sexy, subversive drama for adults."
I would describe the story as a galactic Romeo and Juliet but with an adorable baby and revenge, and guns, and blades, and all kinds of kickass things. There's also a war in the middle which is the main reason why Alana and Marko can't be together in the first place. The characters were incredibly well developed and the plot had me screaming sometimes. Alana is such a strong female character. I love how bold she is and how mad she gets but at the same time she can be fragile and isn't scared of saying how she truly feels about things. Marko, Alana's husband, is just one of the hottest characters I have EVER come across. I love him and he is my ultimate #FICTIONALHUSBAND! I enjoyed seeing how Alana and Marko fought against the world for their love and the child they have in common. We don't usually see characters that have children in YA so it is refreshing for me.
The lack of censorship and all the explicit content sold me on it. The book deals with sex, human trafficking, prostitution, and many other sensible topics that are discussed with success. I love how explicit it is, because I we should not be afraid to talk about all these things freely and as I said before, it's so refreshing after reading YA.
The originality of the story and the characters is another thing that sold me on Saga. The story features SO many good characters with so much potential. I would probably read a spin-off series on each one of them! I mean, people with TVs as heads? A half-spider-half-human assassin? Yes, please!
If you're looking to start reading graphic novels and/or reading a story that'll suck you in, go pick Saga up! Did I mention the art is STUNNING yet?!
Follow me on Twitter (@thebookishgod) and on BlogLovin'!