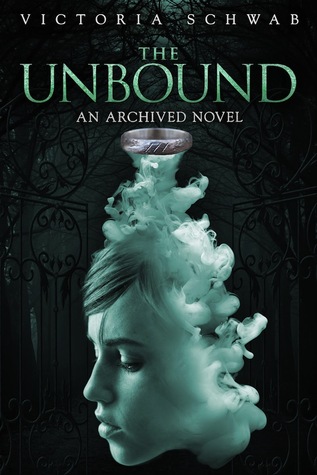 Title: The Unbound
Author(s): Victoria Schwab
Pages count: 368 pages
Publisher: Hyperion
ISBN: 1423178203
Rating: 5 stars
Previously Reviewed by Same Author: A Darker Shade of Magic (Partial)
If you follow me on Twitter (which you should right now @thebookishgod) then you know of my slight obsession with Victoria/V.E. Schwab. I read The Archived at the beginning of 2014 and for some reason I did not pick up The Unbound until now… Yes, kill me. I think I gave The Archived 5 stars so you would expect me to read the second book immediately. Well, no. Schawb's writing is just one of the best writings I have ever come across and her work is always A+. I love the themes her books deal with and how much she experiments with the dark side of her characters.
The world of The Archived is so realistically drawn out you'll be wondering if everyone with a key hanging from their neck is a Keeper! I loved reading about McKenzie and The Archived, about the Histories and damn Owen!
Here's the premise taken from GoodReads:
"Imagine a place where the dead rest on shelves like books. Each body has a story to tell, a life seen in pictures that only Librarians can read. The dead are called Histories, and the vast realm in which they rest is the Archive.

Last summer, Mackenzie Bishop, a Keeper tasked with stopping violent Histories from escaping the Archive, almost lost her life to one. Now, as she starts her junior year at Hyde School, she's struggling to get her life back. But moving on isn't easy — not when her dreams are haunted by what happened. She knows the past is past, knows it cannot hurt her, but it feels so real, and when her nightmares begin to creep into her waking hours, she starts to wonder if she's really safe.

Meanwhile, people are vanishing without a trace, and the only thing they seem to have in common is Mackenzie. She's sure the Archive knows more than they are letting on, but before she can prove it, she becomes the prime suspect. And unless Mac can track down the real culprit, she'll lose everything, not only her role as Keeper, but her memories, and even her life. Can Mackenzie untangle the mystery before she herself unravels?

With stunning prose and a captivating mixture of action, romance, and horror, The Unbound delves into a richly imagined world where no choice is easy and love and loss feel like two sides of the same coin."
If I was asked for just one reason why I adored this book, it'd be character development. We got to know a lot more about Wesley (aka literal character onion), McKenzie and her parents, and The Archived itself. In the first book the characters' personal lives were not the "main attraction"; I felt like I needed more of them and I definitely got it! McKenzie had a lot of character development mainly dealing with her self-confidence as a Keeper and her ability to put Histories to rest. She also learnt to live with her brother's death way better than in The Archived. One of the hardest things for her was realizing her role models were not as perfect or as good as she thought they'd be. It was fun to get to know McKenzie on a deeper level! The only complaint I Have is McKenzie not being promoted!
The surprise in this book was Wesley! We spent a lot of time with him in Book 1 but he remained mysterious and we didn't get to know anything about his personal life. Well, Victoria gave us SO MUCH Wesley and I'm the happiest! We learnt how his life was when it's not summer which was, at the least, surprising. I wasn't fully satisfied though; there were things left in the dark that I really would like to read about. I do hope there's a sequel to this!
The plot kept me intrigued throughout the entire book; there were various plot lines going on at one point which, combined, led to a the final scenes (AMAZING SCENES AT THAT). I also appreciated the high school drama a lot! All the new charcaters brought something fresh to the story!
If you're looking for an action-packed story with lots of character development and a little taste of high school drama  pick this book up right now!
SSubscribe to my blog on BlogLovin' and follow me on Twitter!