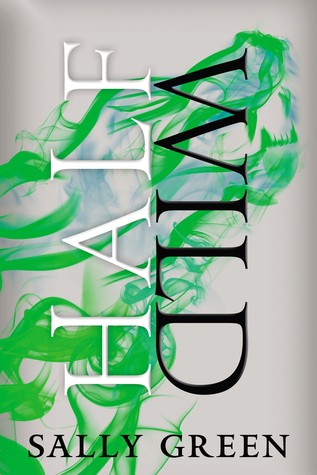 Title: Half Wild
Author(s): Sally Green
Pages count: 400 pages
Publisher: Viking Juvenile
ISBN: 0670017132
Rating: 5 stars
A digital copy of this book was given to me by the publisher via NetGalley in exchange for an honest review.
I've been excited for the release of this book since I finished reading Half Bad, the first book in the series. I wasn't expecting reading it until a few months after the release date because I'm majorly BROKE so when I got approved for an eARC on NetGalley I threw a party. In my room. Alone. But still a party!
I had high expectations going into this one, but it destroyed them with every single page I read. Half Bad was very good but Half Wild is 1000x better. I just don't know how to express how much I loved it! This is one of the very few times I can say I liked the love triangle. I was so invested in the love story; it had me screaming, swooning, raging and making me feel all the feels in the world!
One of the things that stands out from this series is its diversity. First of all, it deals with racism and it's the first book I've read that features a bisexual love triangle. The plot is also brilliant. Everything that happens leads to the end and you don't realize until it's on your face. The glorious ending ties everything together while leaving you hungry for the third book as it arises more questions to be answered. It makes you wonder what will be of the characters because the story could go down so many different paths after that ending.
Most of the characters were great and Nathan and Gabriel are two of my favorite characters ever. However, Sally Green also created one of the most bland, annoying characters I have ever come across: Annalise. I hated her. She tried to play the good girl in a war that couldn't be fought with kindness. She stood between Nathan and his duties and she judged Nathan all the damn time. She can't separate her feelings from what has to be done and comes out as whiny and annoying. She knows that her brothers are bad people and that they're done horrible things but she still stands by them; yet she judges Nathan. HYPOCRISY.
Nathan changed a lot through this book. I feel like he's coming to terms with being the way he is and every day that passes he's more comfortable with his gift and with his nature. What he did at the ending shocked me but it was necessary and I'm so glad he did it! One of his many struggles is his sexuality. I also appreciate Nathan not using tags to determine his sexuality and not being worried about "acting gay". It just contributes to the diversity in this book and spreads positive ideals to the general public. I think that even though he says that Gabriel is just his best friend, he has strong feelings for him. Nathan wants to think he loves Annalise and only Annalise, but truth is he's torn. Let's be real, Gabriel is PERFECTION.
Marcus, Nathan's father, is supposed to be the villain but doesn't feel like it. He's way more complicated than just being good or bad. His relationship with Nathan isn't too warm but he's honest with his son and cares for him so much you'll only realize after finishing the book. I actually loved him and really liked his attitude and relationship with Nathan; he's cold and calculating when it comes to killing people who've hurt him but there's something I can't put my fingers on that makes him sweet and caring. He's also very wise. I found myself wanting more from him and I hope Sally writes a novella or something that revolves around him.
Seriously, if you haven't read Half Bad go pick it up right now. Half Wild gets so much better and I have a feeling that Half Lost is going to be MAJESTIC. BUY IT NOW!!
Follow me on Twitter and BlogLovin'!