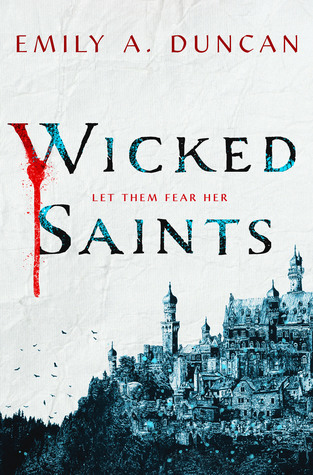 Author(s): Emily A. Duncan
Publisher: Wednesday Books
Rating: 3.5 stars
ISBN: 1250195667
Release Date: April 2nd, 2019
GoodReads | Amazon | BookDepository
Summary:


A girl who can speak to gods must save her people without destroying herself.

A prince in danger must decide who to trust.

A boy with a monstrous secret waits in the wings. 

Together, they must assassinate the king and stop the war.

In a centuries-long war where beauty and brutality meet, their three paths entwine in a shadowy world of spilled blood and mysterious saints, where a forbidden romance threatens to tip the scales between dark and light. Wicked Saints is the thrilling start to Emily A. Duncan's devastatingly Gothic Something Dark and Holy trilogy.


A copy of this book was given to me by the publisher in exchange for an honest review.
Oh, hi!
When I first got approved to read this book back in the beginning of February, I was so excited I gave it full priority. As you can see by the timing of this review, I got lazy because I hate reading on my eReader and it didn't happen until now. Yes, I need to get my life together but please don't call me out on it.
The beginning of this book is strong. We are thrust into action immediately, and we also get our hearts broken in the very first chapter. I loved the way we get to meet our main characters and how they interact at first. There is something special going on during the first couple of chapters. However, the magic started to fade and the first half of the book didn't do it for me. I liked it but I wasn't fully enjoying it. The bloody, gory atmosphere the early reviews promised wasn't there and I felt like the only memorable characters were Malachiasz and Serefin. I came close to DNFing but, please, if you find yourself in the same situation stick with it. Push through the first half of the book because the second half is all kinds of worth it.
There is a point in the story where the plot and the characters bloom, and I flew through the rest of the book. The setting finally makes sense and the atmosphere I was expecting was there. The story reads like a vampire, vengeance tale with lots of political conflict. My hopes were high because I love when stories play with religion and it didn't disappoint.
I'm going to say this early, so the author can start working on it: I need a Serefin spin-off series. I absolutely loved Serefin from page one and I think he and his crew will give a lot to talk about in the future books. I adored Ostyia and her bitchy humour!
The romance in this book is slow-burning and it doesn't overtake the story. I am not a big fun of romance but I enjoyed this one. It moves slow and it keeps you guessing what is going to happen next! You are reading a scene and you think a kiss is going to happen but NOPE THEY ARE SUDDENLY STABBING EACH OTHER WHAT.
Overall, it is a good read and I will definitely be reading the sequel. Let me know if you've read it and what you thought about it!