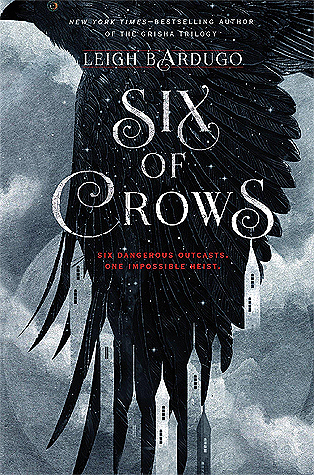 Author(s): Leigh Bardugo
Publisher: Henry Holt and Company
Rating: 4.5 stars
ISBN: 1627792120R
GoodReads | Amazon | BookDepository
Summary:


Ketterdam: a bustling hub of international trade where anything can be had for the right price—and no one knows that better than criminal prodigy Kaz Brekker. Kaz is offered a chance at a deadly heist that could make him rich beyond his wildest dreams. But he can't pull it off alone. . . .


A convict with a thirst for revenge
A sharpshooter who can't walk away from a wager
A runaway with a privileged past
A spy known as the Wraith
A Heartrender using her magic to survive the slums
A thief with a gift for unlikely escapes

Kaz's crew is the only thing that might stand between the world and destruction—if they don't kill each other first.
Oh, hi! Let me start this review by saying that this book has been in my TBR for years. In fact, I pre-ordered it when it came out but I just never got around to it. I wanted to finish the Grishaverse trilogy before starting this duology and I am very glad I waited. Reading SoC before finishing the main trilogy would not have let me appreciate Leigh Bardugo's growth as much as I appreciated it now.
This book expands the Grisha world in ways that surprised me. I heard that this set of books showed us a new side to Grisha power but I never expected to go the way it went.
Let me tell you the first chapter is the best and most powerful start to a book I've ever read. Okay, maybe not the absolute best but it's pretty darn close! The next few chapters are a little bit slower as we meet the squad but it never stops being addictive as you get to fall in love with characters and things start to unravel.
Every character is so well-developed you can't help but fall in love with them all. I think its characters is what makes this book so enthralling, it is a roller-coaster ride to love these characters. I loved Kaz, Inej and Jesper from the start but I absolutely hated Wyland and Nina during the first few pages. Guess what? Now they're all my babies. Also, I adopted Matthias as my husband at first but hated his guts later. Then loved him, and hated him again. Finally, I've decided he's still my husband. For now.
Just so we're clear. This set of characters is a thousand times better than the Shadow and Bone characters. Fight me!
I also enjoyed this world a lot better than Ravka. I loved that it's Dutch-inspired and Ketterdam is the Grisha Amsterdam! I live in the Netherlands and love Dutch culture. I just pictured the whole book happening around my favourite places in Amsterdam and it was pure delight!
I've previously read online that you can skip the main trilogy before reading Six of Crows. I don't really agree with this and I wouldn't recommend reading this duology without reading the Grisha Trilogy, at least you should read Shadow and Bone first. This book fails to explain the magic system and the reader will have absolutely no idea of what's going on.
There is a satisfying element to reading the main trilogy before this book. Some characters from the Grisha trilogy are mentioned and we get to find out what happened to them after it. It just brings joy to reunite with previous characters!
Crooked Kingdom, its sequel, is on my immediate TBR because I not only want to find out what happens to our squad. I'm also desperate to read King of Scars!
Have you read Six of Crows? Do you prefer the Grisha trilogy or this duology? Let me know in the comments, I need to rant about this with someone!