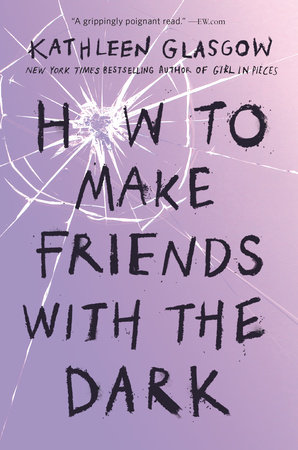 Author(s): Kathleen Glasgow
Publisher: Rock The Boat
Rating: 4.5 stars
ISBN: 1101934751
Release Date: April 9th, 2019
GoodReads | Amazon | BookDepository
Summary:


Here is what happens when your mother dies.

It's the brightest day of summer and it's dark outside. It's dark in your house, dark in your room, and dark in your heart. You feel like the darkness is going to split you apart.

That's how it feels for Tiger. It's always been Tiger and her mother against the world. Then, on a day like any other, Tiger's mother dies. And now it's Tiger, alone.

Here is how you learn to make friends with the dark.


A copy of this book was given to me by the publisher in exchange for an honest review.
Oh, hi!
Today, I am talking about a book that is both beautiful and heart-breaking at the same time. One of the things I can't deal with, when it comes to stories, is losing a mother. I will start bawling and I will be calling my mom right after the movie or the book is over, and it stresses the fuck out of me to even think of that possibility. My father is not in the picture anymore and my mom is both my parents. She is the most important person to me and this topic triggers my very soul.
I NEVER cry when I'm reading… Until I read this book. I can't count the times this book made me cry. It's not only the death of Tiger's mother but all the little ways she's reminded of her. Tiger's journey from being a fully functional teenager/family to being a lonely, homeless angsty teen is devastating.
The author does an incredible job at describing grief. I can't judge whether Tiger grieved the right way because it is a different experience for everyone; but I can judge how the author made me feel what Tiger felt and how she made grief a character on its own. I'll say she did an incredible job at that.
Glasgow will take your heart, caress it, and tear it to pieces when you least expect it.
The characters in this book are not perfect and they are mostly morally grey. Some of them even disappear to suddenly appear later on, which I think made you focus a lot more on Tiger's struggles and journey. This is a pretty long book for a contemporary but it works just fine. The pace fluctuates and gets slow when it needs to, but it will have you at the edge of your seat as well.
I could say that I would've liked certain characters to be more present in the story, and that I wished for the romance to be handled differently because I wanted Tiger to be happy so bad. However, I can't criticize the story line because it is real and raw. Tiger cannot allow a love story to happen when her mother is still warm in her casket, and she had to let go of friends for the sake of her happiness.
This book touches upon delicate topics such as suicide, depression, and domestic violence. I would advise to refrain from reading this if these topics triggers you in a negative manner. Even if briefly, these topics make an appearance and they are hard to read about. I have gone through depression and I am a domestic violence survivor myself. I know how being reminded of these things hurt but, personally, I appreciate feeling these topics are not as taboo as they used to be.
Glasgow wrote a story that is ultimately about grief, family, and finding one's self in the middle of a howling storm. You need to read it.