As you may know, it's Autism Acceptance Month! My name is Anniek and I blog over at Anniek's Library! Since I'm an autistic book blogger, Cristian kindly asked me to write a guest post about autism for his blog. Thank you so much for thinking of me, Cristian! I hope I can give you some new insights!

I'll start with a short explanation of what autism is, and some important things to keep in mind, to cater to those who may not be familiar with the topic. But since this is a book blog and I'm an avid reader myself, I'd mainly like to give you some book recommendations!
What is autism?
Of course, if you'd like to know what autism is, you can always Google it, and I assume you already have some idea. But unfortunately, there are still a lot of misconceptions about autism.
I was only diagnosed myself around a year and a half ago. I spent my teenage years wondering if I was maybe autistic, as well as half of my twenties, but I kept thinking I was probably exaggerating, because every autistic person the media portrayed seemed to be so very different from me. I've always struggled with social interaction, especially because it's very draining for me. I also have sensory issues that can lead to sensory overload, but before getting diagnosed, I always tended to think I was just being lazy and I should try harder.
This is why a limited, stereotypical portrayal of autism can be really harmful. For me, going largely unaware of my own autism meant so much suppressing and compensating that it led to depression. You can probably imagine how important it is for people to be informed on what autism is and to be accepting of autistic people!
(This is not to say that a diagnosis is always necessary. There can be multiple reasons for someone to not get diagnosed, and self-diagnosis is absolutely valid!)
To hopefully raise some awareness and acceptance, I'd like to explain two important things:
Always use identity-first language ("autistic person") instead of ("person with autism"),
unless an autistic person explicitly asks you differently. And always use identity-first language if you talk about autism in general.
You might think: but there's more to you than autism, right? So why would you want that to "define" you? There is. And I don't think it defines me completely. But it is a large part of who I am and I can't separate myself from my autism. Look at it this way: you would also say someone is a "gay man" and not a "man with homosexuality", or you would say someone is a "black woman" and not a "woman with blackness".
Autism is not an illness. It does not need to be cured. Most autistic people would never
consider a cure, even if it was possible. Our autism is inseparable from who we are!
Because of this, it's important not to support Autism Speaks and any other organizations that focuses on finding a cure for autism. Similarly, never support organizations that promote ABA therapy, which is generally described as gay conversion therapy for autistic people.

Luckily, there's a bigger and bigger call to listen to #ActuallyAutistic people (this is also an interesting hashtag to follow!). The aim is pretty simple: nothing about us without us. In other words, it's a call to listen to autistic people rather than speak over us like parents/carers and professionals have done originally.
Book recommendations
This call for what you could describe as own voices narratives is pretty exciting for the book community as well, I think, because it will hopefully mean that more and more autistic authors get the chance to tell their stories!
I've already read a few books with autism rep that I loved, as well as books by autistic authors that I loved! Here's some of my recommendations.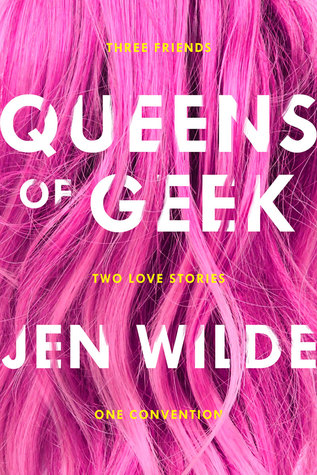 Queens of Geek by Jen Wilde (autistic author, autism rep)
The autistic main character, Taylor, is one of the first characters I really recognized myself in. And fun anecdote: she's even part of the reason I decided to seek out a diagnosis!
The Brightsiders by Jen Wilde (autistic author, no autism rep)
After reading Queens of Geek, of course I also had to read The Brightsiders when it came out last year. I really enjoyed this as well!
The Nowhere Girls by Amy Reed (allistic author, autism rep)
This is one of the only books by allistic (non-autistic) authors I've read where I thought the rep was really accurate. It didn't rely on stereotypes and the autistic character was very relatable.
On the Edge of Gone by Corinnne Duyvis (autistic author, autism rep)
The autistic main character in this novel wasn't very relatable for me personally, but I did love the rep. If anything, it's great to see different types of autistic characters portrayed! Because that's what we need: more varied representations, rather than limited overused stereotypes.
The Kiss Quotient by Helen Hoang (autistic author, autism rep)
Even though romance really isn't my genre, I really did appreciate The Kiss Quotient for it's wonderful autism rep. The main character was incredibly relatable.
The Bride Test by Helen Hoang (autistic author, autism rep)
I was lucky enough to read an eARC of this book! You can read my review here.
The Gilded Wolves by Roshani Chokshi (allistic author, autism rep)
As far as autism rep by allistic authors goes, Roshani Chokshi did a pretty good job. It was clear that
she put in the effort to give a respectful portrayal and make it as accurate as possible. She did lay it on a little thickly at times in my opinion, but I didn't have any real issues with it, and The Gilded Wolves is just such an amazing book all around as well!
Maar je ziet er helemaal niet autistisch uit by Bianca Toeps (Dutch, autistic author, autism rep)
I received a review copy from the publisher, and read it almost right away. This book was so very relatable and empowering, and I would really recommend it to all of my Dutch followers. My review will be up soon!
I hope you had fun reading my guest post, and if you end up reading one of the books I recommended, I hope you'll enjoy it!! Of course, this is only one post, from one point of view. I tried to be concise, so I've likely forgotten important points.
Aside from that, every autistic person's experience will be different. If you have any questions feel free to DM me on Instagram or Twitter!
Happy reading!!